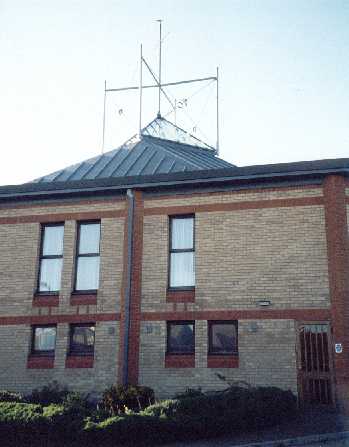 Windows of offices and meeting rooms on the south side. The church itself is within.
This is a complex, heavily populated and industrialised district. Within a mile are the European Social Priority area of the Grange housing estate, and the vast complex of Felixstowe Docks, Britain's biggest.

People who don't know Suffolk tend to think of it as a rural idyll, with pretty pink cottages set among gently rolling hedgerows. Well, these are easy enough to find, if you want them. But most Suffolkers live within five miles of the centre of the big four towns. This neighbourhood is wholeheartedly urban.

Cavendish Community Church is a good-looking building, blending two main types of brick to create details, and also a timber effect, although you have to look closely to see any exposed wood. A skylight about the church builds to an array of piping, surmounted by a cross, which always seems to have a seagull sitting on it.

As one may imagine, the worship here is hardly traditionalist in character; friends of mine who used to go here have described it as 'charismatic', although I find this an increasingly misused word.

All in all, this is a significant, attractive and well-used building. However, you must expect to find it locked when not in use.