hover to read,
click to enlarge: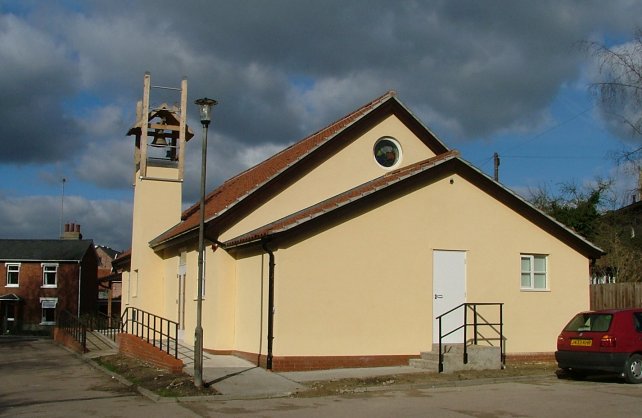 All over northern Europe, Catholic worshipping communities live in the shadow of their former glory, and there can have been few places where the contrast between then and now was greater than Framlingham. The parish church of St Michael, where Catholic priests ministered before the Reformation, is a vast and glorious edifice; but, of course, it is now in the care of the Church of England, and Framlingham's Catholic population meet in a prefabricated hut in a car park.
If you had come this way before 2003, it looked exactly like that, and was probably Suffolk's most understated Catholic church. However, something extraordinary has happened to it. The entire prefab complex has been rebuilt, coated and rendered, and a fine bell campanile tower has been added on the south side. The way it tapers echoes agricultural shapes as much as ecclesiastical ones, and is really rather splendid.
Inside are beautiful embroidery hangings and frontals, as well as some fine carved Stations of the Cross - or, at least, I thought they were. I've been told since that they are cast resin.
This church is served from Woodbridge, some 10 miles away, a reminder of how geographically remote some of Suffolk's Catholic communites are from each other, and of the importance of the East Anglia-wide Diocesan Pastoral Council, which brings them together.
Amazon commission helps cover the running costs of this site