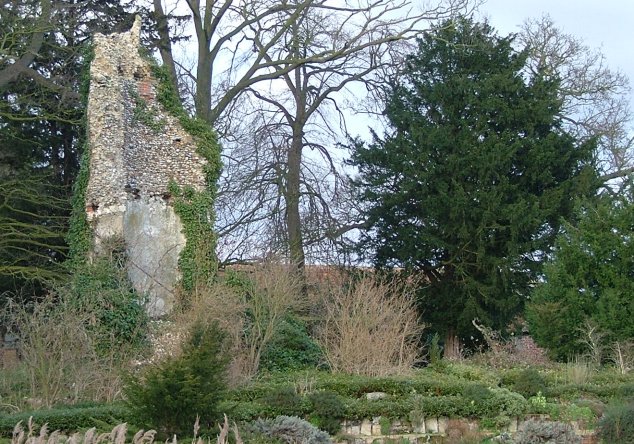 This pleasant ruin sits a little way off the road that runs by Thorpe Hall, but a public footpath runs right up to the fence. It is actually in a garden, and tamed somewhat by landscaping and flower beds, but enough remains to see what was once here.
This was one of Suffolk's round towered churches. The view from the south (above) shows that it is the north and west of the tower that survives, as well as a buttress that once supported the north-west corner of the nave. Unlike Barnham St Martin, which also sits in a domestic garden, it is not so overgrown by ivy that you can't see the details of successive rebuildings and repairs.
Unusually for Suffolk's ruined churches, St Peter was long in use as an Anglican church; this despite the fact that the Reformation saw its ruin. The village of Thorpe barely exists, and for centuries has been in a joint parish with larger neighbouring Ashfield. From the middle of the 16th century up into the 18th century, the worshippers of both villages attended the church at Ashfield. However, in 1739 an enthusiastic squire rebuilt the church here at Thorpe (we may presume that the tower survives from the earlier building) and Ashfield church was abandoned - only its graveyard continued to be used for the dead of both villages.
However, 1853 saw the rebuilding of Ashfield church in a substantial style, and St Peter was quietly abandoned. There were no gravestones to keep people interested and give them a stake in its survival. Since then, quarrying for building materials and wear from the elements have reduced it to the state we see it in today.
The ruin of St Peter, Thorpe, is in the grounds of Thorpe Hall just off of the A1120 between Pettaugh and Earl Soham. A public footpath goes up to the fenced ruin.
For more information about this church, you will find news and fascinating historical notes on Ashfield-cum-Thorpe's excellent website.

this site supported by commission from amazon.co.uk