Hover to read captions, click to see enlarged images: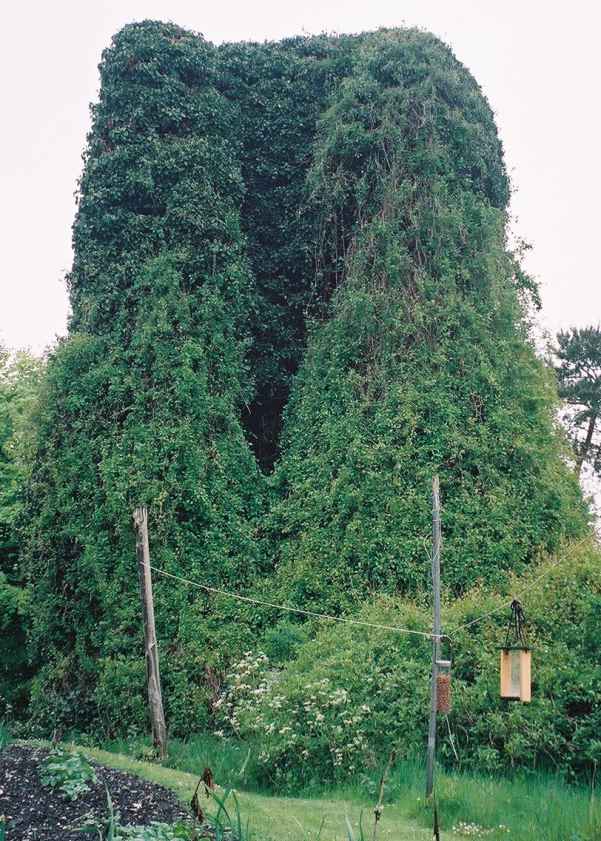 The parish church of Barnham is dedicated to St Gregory, suggesting an early foundation. It stands on the main Euston to Elveden road, its rather bland Victorian restoration something of a relief after the exotica of those two churches. But until after the Reformation, Barnham was two parishes, and had two parish churches. This is because it stands on the spot where the Liberty of St Edmund and the Liberty of Thetford met, and there was a Barnham in each.
Blatchly & Northeast (1975) tell us that the two parishes were consolidated in 1639, and the bells sold off in 1682. For the next few centuries it was used as an animal shelter, presumably for pigs. The raised garden suggests that there are foundations just below the surface.
I had tried to find it about six months ago, on a rain-swept stop-off on the way to Thetford. I came back with someone more tenacious than me; we drove around the small village looking in back gardens, and eventually spotted it. Completely encased as it is in a coat of ivy and honeysuckle, set back from the road and hedged into a garden, it was easy to see how I had missed it before.
I knocked on the cottage door to ask if I could go and photograph it, while DD merrily marched up the garden path. Permission granted, I followed him, but in all honesty there isn't a lot to see. As DD observed, it is a little like photographing a large tree.
The cottage garden is now where the body of the church was, and all that remains is the west side of the tower, and some of the south and north. Parting the thick curtain of ivy at the base revealed a glimpse of flint; given that Barnham sits at the heart of the medieval flint mining country, this was no surprise. The clamour of baby birds was very strong - there must be hundreds of nests in there.
And yet, for generations of our ancestors, it was a touchstone.
Amazon commission helps cover the running costs of this site