Hover to read captions, click to see enlarged images: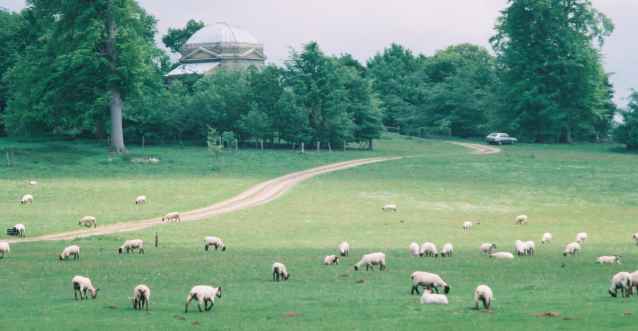 At the end of the 18th century, at the height of the stately home park cult, the Dukes of Grafton enclosed the entire village of Little Fakenham within the grounds of Euston Hall. The village was probably depopulated, as many were around here; indeed, Blatchly and Northeast (1975) tell us that there was only one family left. Quite likely, the settlement was inconveniently in the way of a view, or a planned woodland, or merely sheep-grazing. The houses were all razed to the ground, the church demolished, and the whole village ploughed under.
The damage was so complete that it is no longer clear exactly where the village buildings were. Some signs of the layout remain in the farm tracks, but not a single structure. The belt of trees beside the road to Ixworth is known as Fakenham Wood, and leads to the surviving village and church of Fakenham Magna. If you stand at the entrance to the park, you see the Euston church of St Genevieve, which was entirely rebuilt in 1676, an unusual date in England and unique in Suffolk. Beyond it, on a rise, stands the two-storey temple, intended as a banqueting hall. This is the direction in which you would have walked to Fakenham Parva in the 18th century. The rebuilding of Euston church must have signed its death warrant; in 1739, the two parishes were consolidated, and the Dukes of Grafton spared no expense in making sure that St Andrew no longer exists.
Amazon commission helps cover the running costs of this site