Little Bricett does not exist. Instead, you meander along a muddy lane off of the Ringshall to Offton road, in the direction of Tollemache farm. Here in the fields stood St Lawrence. There is no village anymore.

Not far across the fields, but inaccessible by road except by a roundabout route, is the parish church of Great Bricett. In the Middle Ages, that was part of a Benedictine Priory, an alien cell to the community at St Leonard, Limoges, so we may assume that many of the local inhabitants came to the parish church here. But the alien houses were given their independence during the wars of the early 15th century, and many of them became parish churches. That must have sounded the death-knell for remote little churches like this one, for the Bricett Priory church was in the heart of the populated area.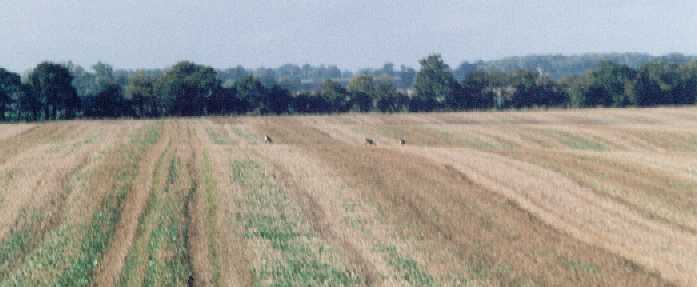 Wild deer crop winter shoots in the gentle hills near Little Bricett
St Lawrence was a Vicarage of Thetford Priory, and these were never popular with the 16th century reformers. In fact, the living here was consolidated with that of neighbouring Offton as early as 1506, a good thirty years before the first hammerblows of the Reformation. The building would have survived for a while, and may even have remained in use, but the trauma and neglect of the next three centuries meant that it never really stood a chance, and no trace survives of it today. In the 1975 supplement to Cautley, John Blatchly identified its Ordnance Survey location as TM 051501, not far from a public footpath.
In the years after the Reformation, the parish was subsumed into that of Offton, but the dedication survives as part of the modern dedication of Great Bricett.
The site of St Lawrence, Little Bricett, is accessible on foot along the public footpath to Tollemache Hall from the B1078 Bildeston to Ipswich road, just before the Great Bricett turn. Alternatively, you can get pretty close by car off of the Offton to Ringshall road.